Water grinders are an ideal machine for putting the primary bevel on most edge tools such as bench and carving chisels and plane blades. The grinders rotate slowly (when compared to more conventional high speed bench grinders) and grind the tool under the water coolant which keeps the material cool. The edge shaping happens more slowly, much more controllably and safely with little chance of injury.
The introduction of sharpening jigs for the Scan machine which offer a high degree of accuracy and repeatability, means that massive HSS tools, such as are common in woodturning, can be sharpened far more effectively. If, however, the intention is to shange the bevel angle or reshape these tools a high speed bench grinder is still probably best for the reshaping process.
Scan grind machines excel at sharpening carbon steel tools.
We supply the EK white aluminium oxide stone most suited for knives and cutting tools as standard when we supply Scangrind water bath grinders.
Although we suggest you drain the water from the machine between uses, these machines do not suffer the major drawback of some others where the water trough must be lowered out of contact with the stone between sharpening sessions to prevent the stone from going out of round. In this respect Scan grind wheels are less trouble.
Both sizes of machine have a reversing switch, an option favoured by knife grinders. These machines have a toothed belt drive and do not stall. Scangrinds have an intermittent duty cycle motor.
Care & Maintenance
We recommend that the water is drained from the unit if it is not going to be used for 2 days although given the high probability that occasionally this will be overlooked experience indicates the wheel will not suffer .
| | | |
| --- | --- | --- |
| Model | SCAN 150 | SCAN 200 |
| Country of manufacture | Denmark | Denmark |
| Stone diameter | 152mm | 200mm |
| Stone width | 40mm | 40mm |
| Output Power | 60 watts | 85 watts |
| Reversing option | Yes | Yes |
| Power supply | 240 volts 50 hz AC | 240 volts 50 hz AC |
| Insulation rating | Double | Double |
| Case | ABS plastic | ABS plastic |
| Motor duty cycle | Intermittent | Intermittent |
| Weight | 6 kgs | 9 kgs |
Accessories
The Danish made 200mm Scangrind water bath grinder now has a range of accessory jigs. Water bath grinders are slow speed machines which rotate a wheel through a water bath. This means the tool being ground is never heated and is effectively sharpened under water which avoids any likliehood of the metal being overheated during sharpening. The Scan 200 now has jigs which provide for repeatable and accurate grinding of several types of tool blade.
All jigs require a bridge or saddle known as a Base Unit to be retrofitted to the grinder. Some jigs ride directly on this Base Unit while other jigs require a Sliding Guide which rides on the Base Unit and accepts other jigs on top of itself. For instance the jig for straight tools, the Universal Multi Grinding Jig, needs the Base Unit fitted with the Sliding Guide fitted underneath.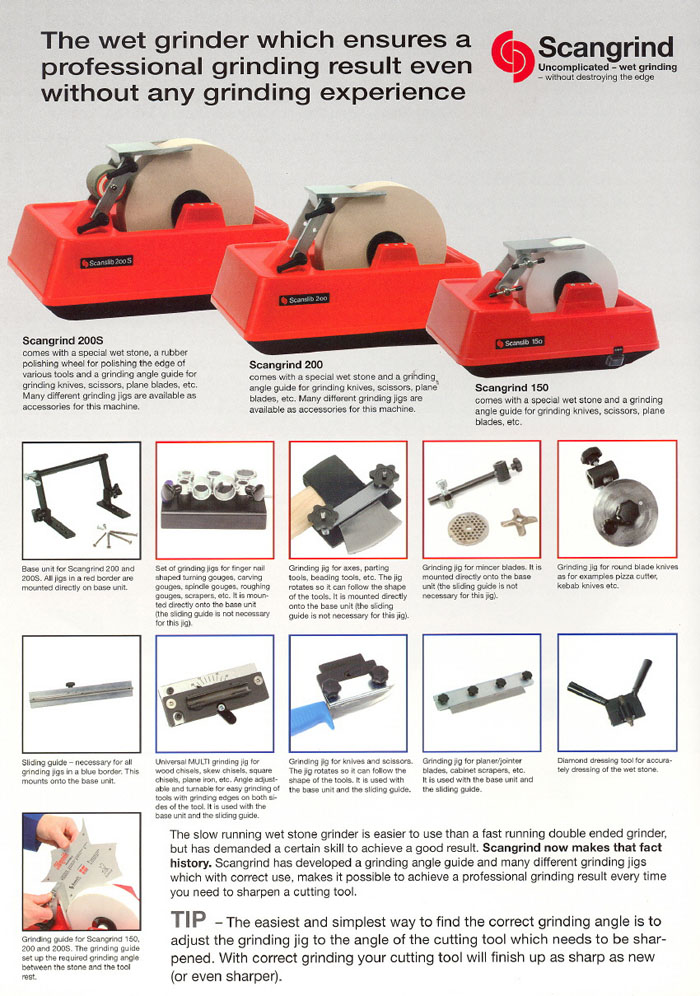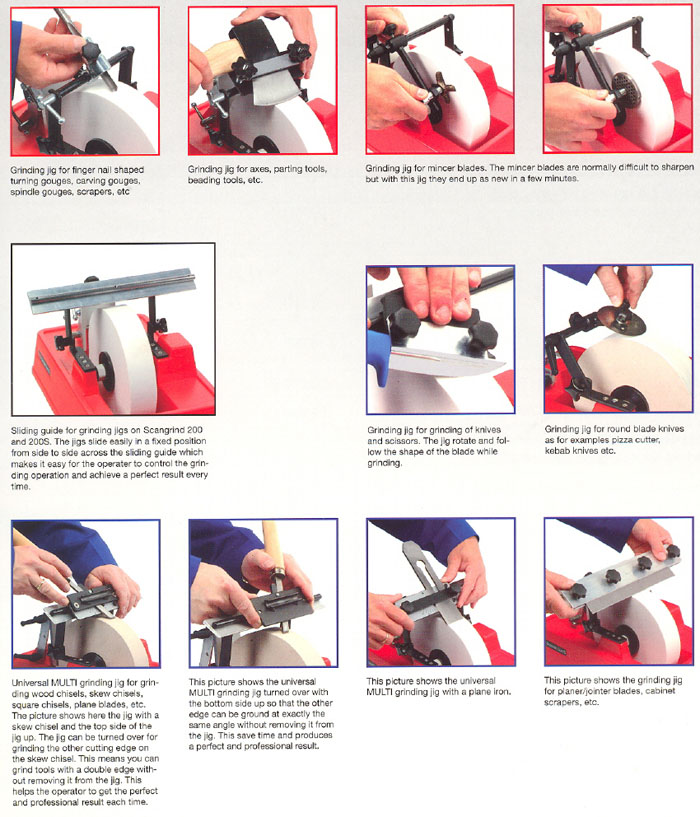 For more information on the jigs click on
Spare and alternative wheels
| | |
| --- | --- |
| Standard EK White for carbon & stainless tools | 150mm 200mm |
| Alternative SC Green for TCT, stone & glass | 150mm 200mm |