Wood Works Re-Handled Bench Chisels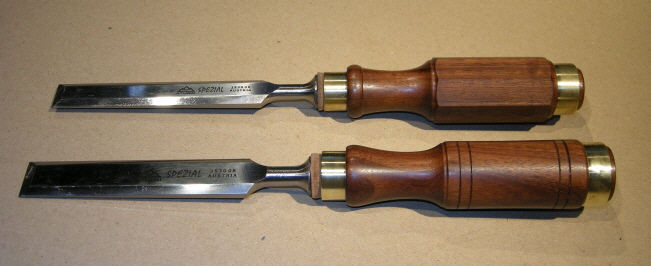 CLICK HERE for purchase options
We market around the world what we believe are some of the best Western design, heirloom quality, bevel-edge, bench-chisel sets available.
Every manufacturer we are aware of is faced with the need to get a mass produced product on the market at the best price-to-quality ratio as possible and, in Western markets, come to terms with the rise of the East Asian and South Asian makers who currently have significantly cheaper production costs.
With our approach we do not have these constraints and, provided your pockets are deep enough, we offer a product which is functionally excellent and highly appealing to the eye and hand.
Heirloom quality tools in fact.
We take new Stubai blades and hand-fit new handles made from Australian dry country, slow grown, acacia species which provide attractive and appropriate wood for the handles. This brings together a top quality blade, superb handle wood, heavy brass fittings and (in our humble opinion) the best handle designs - either the classic round profile from E.A. Berg in Sweden (whose chisels are hotly sought after on the second hand market throughout the world) or the classic London Pattern octagonal which feels so good in the hand and stays put on a bench.

We think this approach deals out the compromises apparent in every commercially available chisel currently on the market. Shortcoming, such as light duty hoops & ferrules (which are often loosely fitted in the first place, or fall off after being transported around the world through varied climates), mass produced poorly detailed handle designs in boring wood and average quality steel used for blades. One or the other - or several - of all these compromises can be found in many of these makers offerings. Maybe the worst sin of all is the packaging and country-of- origin regulations in many Western countries which allow, for highly reputable and known brands, the steel blades to be outsourced and the handles (maybe) pressed on in the West and the whole lot packaged up and sold as Made in Sweden, England - you name it.

The Stubai 'spezial' steel chisel blades we use regularly win in comparative surveys of western pattern chisels. They have superb edge holding ability. The handles are in graduated sizes made from woods such as brigalow, myall and gidgee and fitted with heavy walled, solid brass hoops and ferrules. We re-use the original Stubai shock washer. Handles are available in either a London pattern octagonal or 'Berg' pattern round handle (see picture above).
Note: we can also supply these same blades with a paring handle - i.e. without rear hoop - again in either an octagonal or round pattern.
The Stubai 'spezial' blades are available in 18 sizes - 4, 6, 8, 10, 12, 13, 14, 16, 18, 20, 22, 24, 26, 28, 30, 32, 35 and 40mm widths.
Please email for wood species available and a delivery schedule as these are made to order.
Other links
CLICK HERE FOR replacement wooden and factory made handles.