This DATA SHEET is a more detailed discussion about repairing chisels with made to order handles. To see our factory made range of wooden & synthetic material handles CLICK HERE
Bench Chisel Handles
We can supply chisel handles for you to fit and we also offer a handle make-and-fit service. Occasionally we can also repair, or slightly shorten, classic handles such as those on E.A. Berg chisels which have handles which contribute greatly to both their sentimental and market value. Note that if you buy tang style handles to fit yourself, we make these handles with a centered, smaller than final hole for an average tang thickness and length. This is because there is nothing approaching a standard for chisel tangs. We also supply socket style handles oversize as there is no standard socket dimension.
R.A. Salaman, in probably the best single resource and indispensable text for lovers of tools, "Dictionary Of Wodworking Tools", lists tools used by in excess of 80 wood trades, from Ships' Block maker to Coffin Builder. It is inconceivable that chisels were absent from the tool kits of any one of these trades and, as a consequence, there have been over time an wide variety of designs and patterns which in turn means there is a wide range of chisel styles and patterns on the second hand market.
The situation on the new tool market today is not, unfortunately, as blessed with variety. You will see a concentration on the bevel edge, often incorrectly called 'firmer' pattern, virtually no socketed styles, few companies offering true firmer blades (rectangular in east west side to side section), surprisingly few butts, a few sizes of mortice chisel, (rectangular and slightly tapered in north south, top to bottom section), and a paucity of bench gouges, either in-cannel (scribing) with an inside flute grind or out-cannel, with an outside flute grind.
The majority of reputable western makers of chisels, (although there are exceptions - SEE HERE), have in recent times moved their manufacturing base to the rapidly emerging economies of East and South Asia. In some cases the resulting products are then part assembled, or the final packaging is done in the West, and the tools are then able, under what are surely less than ideal consumer advice regulations, passed off as say 'Swedish' or 'American' or 'British Made'.
These developments, coupled with the flood of chisels with very average steel quality - albeit maybe more honestly marketed with unrecognisable branding - sourced from the emerging economies of East and South Asia, have spawned a very active market in second hand chisels. In this market there are clearly many more chisel blades about than complete chisels and here is where we are able to help with replacement handles, commonly the most problematic part of keeping a chisel in use.
A footnote perhaps to the skepticism expressed above about quality is that it is quite possible to find poorly made and poorly hardened Western chisels and, if the trends continue in the migration of manufacturing, there will surely be quality chisels made in the East sooner or later. It will however, in my view, have to await the day when Made In China no longer carries an automatic assumption that it means the bottom end of the market in quality.
Finally it should also be pointed out that none of the above comments apply to the middle to high end Japanese market in chisels which are in a class all by themselves although, even here, there are rip offs and cheaper copies becoming available.
When Should a Chisel Blade be Written Off?
Bear in mind that a chisel blade goes through numerous processes during manufacture one of the most critical is hardening. A chisel is normally part-only hardened - often in molten salt baths - before final grinding and polishing. This hardening results in the usable portion of the blade becoming limited to the leading 60 to 70%. If a chisel has seen so much grinding and honing that less than half of the length of the original blade section remains it may not be worth bothering with. An exception here is to accept the much used chisel as a butt chisel with the acceptance that only a few grinds are left before the edge starts to stop holding up a sure sign the hardened section of the blade is worn away. This will be evident also because the speed of getting an edge back on improves, the problem being you are in softer steel territory.
In summary then if a chisel blank were to be universally hardened over its full length it would likely snap under use. The tang and rear 30% is therefore not hardened so it will absorb shock loads without shattering.
Hoops & Ferrules
We don't fit anything other than generously proportioned solid brass fittings to the handles we make. We also use very dry handle stock and we take great care in the fitting of hoops to avoid as far as possible the dreaded loose-hoop problem due to wood shrinkage. Pinned hoops can be specified as per Berg styles, please email for this option.
We are often able to re-use the distinctive milled ferrules and steel Berg hoops even if fitted with pins. Please discuss this when emailing.
Woods & Finishes
We will by default use either an appropriate acacia or eucalypt species for striking styles and, by email negotiation, can offer a wide range of attractive species for paring styles including Australian desert acacias such as Gidgee and Myall . (Unfortunately we cannot source either the birch root burl stock of classic Bergs or genuine boxwood).
If customers wish to supply wood they wish to see in their handles and it is suited to the purpose then it can be used.
We can supply handles with most finishes - lacquer (which is easily removable), synthetic Tung, Pure tung oil, polyurethane and, of course, no finish at all.
Socket Styles
The decline in socket styles available on the new tools market, (with the notable exception of many Japanese makes - which often actually have a combined socket and tang), is due in part to the lack of any standard as tapers are only approximately similar among manufacturers. Our socket styles will also therefore require you to do some work in the fitting. The other notorious problem with socket styles is that they work loose due to seasonal movements in the wood of the handle. Despite this they are, in many users view, highly agreeable to the eye, so please don't give up on them.
Warranty
Unfortunately, other than for the fitness-for-purpose requirement at supply, we cannot warrant the chisel handles we supply for fitting by customers as this is a relatively skilled operation with a risk of splitting during fitting.
The Ultimate?
If you have the budget we can supply in sets of 6, 8, 12 or 18, (or any combination to order), re-handled Stubai "Spezial" alloy blades with 18 size options between 2 and 40mm fitted with London Pattern octagonal handles in heirloom quality woods - typically Mulga or Gidgee or Myall - and heavy duty brass fittings. This option can include leather shock washers or leather paring heels.
This deals out any compromise by delivering you the best blades (Stubai), the best handle design ("London" Octagonal), the best and most exclusive woods (desert Acacias), heavy brass fittings and all professionally hand made with options including shock washers and leather heel caps.
Please email for quotes and delivery timing. Please also be seated when seeing pricing.
Chisel Nomenclature
Salaman's view of the parts of a chisel is as follows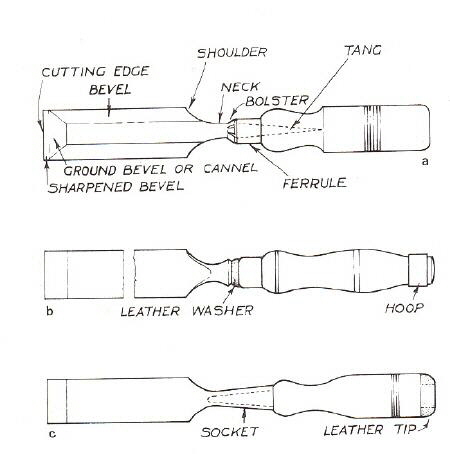 We offer handles with either ROUND or OCTAGONAL section, in either HOOPED or PARING STYLES, for either TANG or SOCKET style blades. Leather shock washers can be specified where appropriate. We can often re-use ferrules with the unique milling pattern from renowned makers a such Anton Berg and, if you have enough of the busted old handle to lift a copy off, you may want to supply that for us to match if you are sending chisels to be re-handled.
Round Patterns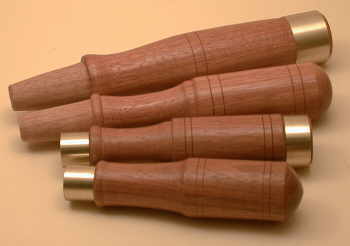 | | |
| --- | --- |
| S0470 | Handle, Chisel, ROUND Section, For TANG Blade, FERRULE & HOOP, #160010 |
| S0471 | Handle, Chisel, ROUND Section, For TANG Blade, PARING & FERRULE, #160015 |
| S0482 | Handle, Chisel, ROUND Section, For SOCKET Blade, HOOP, #160020 |
| S0483 | Handle, Chisel, ROUND Section, For SOCKET Blade, PARING, #160025 |
Octagonal Patterns
Octagonal section handles offer the benefit of not rolling about on the bench when put down and have an improved feel.
Paring handles have no hoop and are intended for only light mallet work. They are usually pushed by hand.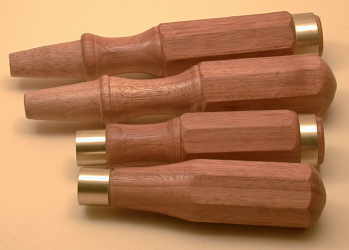 | | |
| --- | --- |
| S0476 | Handle, Chisel, OCTAGONAL Section, For TANG Blade, FERRULE & HOOP, #180010 |
| S0477 | Handle, Chisel, OCTAGONAL Section, For TANG Blade, PARING & FERRULE, #180015 |
| S0486 | Handle, Chisel, OCTAGONAL Section, For SOCKET Blade, HOOP, #180020 |
| S0487 | Handle, Chisel, OCTAGONAL Section, For SOCKET Blade, PARING, #180025 |
Other Chisel Styles
Please email your requirements for handles for your other chisels. We also make handles for a wide variety of other tools and "appliances" as varied as the handles on bow saws through to those on favourite kitchen & garden tools.
Revised 01/2014