A scroll saw is a powered version of a hand fretsaw. A scoll saw has a fine blade which is driven in a vertical reciprocating action in a work table. The work table can be tilted which allows angled cuts. Work is pushed by hand through the blade which is typically extremely fine and allows tightly curved cuts. By predrilling an access hole in a workpiece then detaching and re-threading the blade through the work, inside cuts are possible.
The Multicut Quick has a deeper throat than any other in the range, a machined cast iron table and variable speed is standard.
The Multicut Quick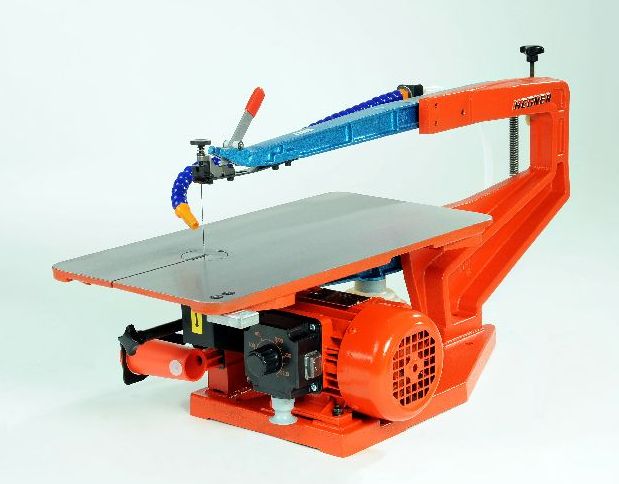 Hegner scroll saws make little noise, are undoubtedly the safest mechanised saw available, have efficient dust collection and can be used in tight spaces which means there is no need to have a large work area. There is a complete library of books and visual media available to offer instruction and project ideas.
Hegner scroll saws are widely accepted in schools with thousands in use across Australia.
Hegner scroll saws are more than capable of producing commercial scale work such as verandah brackets, toys and the like.
You might consider these issues when choosing a scroll saw.
Country of origin - Hegner are made in the Black Forest region of southern Germany where scrollsawn woodwork has a very long tradition.
Engineering - Hegner is the brand all others either try to copy or emulate. You get a German made motor and controller and starter set of blades.
Operation - The key operational issues for scroll saws are vibration, noise, cut accuracy, how fast you can do pierced work and smoothness & sensitivity of speed control (where fitted - not all speed controls are made equal, cheaper ones are notchy. A quality speed controller delivers a 'flat torque curve' which equates to consistent delivered power at every speed setting).
Duty cycle - code for how well the machine is rated for continuous use. Hegner excel in this regard.
Warranty - Hegner are jealous of their reputation for quality and offer a 3 year conditional warranty.
Support - We routinely supply spares for machines over 20 years old which are still giving great service.
Safety - Hegner machines are available with blade guards, workpiece hold-downs, have a standard dual dust management system (sucker or blower) and, most importantly for safety, a patented blade fragment retention system which contains bits of blade when broken. Paradoxically perhaps, the main safety issue with scroll saws is not the risk of cutting yourself, which is in fact minimal but the eye injury risk from broken blade fragments. Hegner blade clamps retain blade pieces when the blade snaps. Note that despite this feature we suggest the use of safety glasses for all work on a scroll saw.
Blade variety - there are currently only 3 of 4 blade options for pinned blade machines whereas there are dozens for pinless machines allowing metals, wood, shell, plastic and other materials to be worked.
Accessories - we can offer work lamps, hold down arms, safety guards and special blade clamps for inside cuts.
Running costs - pinless blades are about 25% cheaper than pinned blades.
Resale Value - Hegner machines retain their value longer than any other make and are hotly sought after on second hand markets.
Multicut Quick - Variable speed (fixed speed Quick is not available) Item Code: M0244
The SE model is identical to the 2S Variable speed model however is fitted with a cast iron work table
Throat ........................ 560mm (22")
Cutting height............... 65mm (2 1/2")
Table material............... cast iron
Table........................... 435mm x 230mm (17" x 9")
Table tilt.......................-12 degrees to 45 degrees
Quick Blade Release ..... Yes
Stroke......................... 12mm (5/8") and 19mm (3/4")
Speed.......................... 400 ~ 1,400 spm
Motor.......................... 100Watts (230v, 50Hz, AC)
Motor Rating................ continuous
Weight......................... 29Kg
Options
Hold Down Arm
Indicative Materials Capacities (dependent on blade selection)
Soft wood ..................... 65mm
Hard wood ................... 50mm
Aluminium, copper ....... 15mm
Bras silver ................... 10mm
Iron, soft steel ............. 8mm
Hard plastics, perspex .. 40mm
Polyurethane foam ....... 65mm
See HERE for machine purchase options.
Click HERE for accessories including work lamp and brackets, hold down arms, quick release blade clamps, blade guard, retrofit dust joint hoses.
Click HERE for spares
Click HERE for

Scroll Saw Manual

Click HERE for a technical specification comparison chart
See BELOW for exploded parts diagram
Note: The air hose, which connects to the bellows for blowing or dust trumpet for sucking, has been upgraded with a joint hose assembly fitted as standard to new machines and available as a retrofit part assembly. Click HERE to see this part.
Note: The Quick is identical to the SE although has a different C frame which allows greater throat.